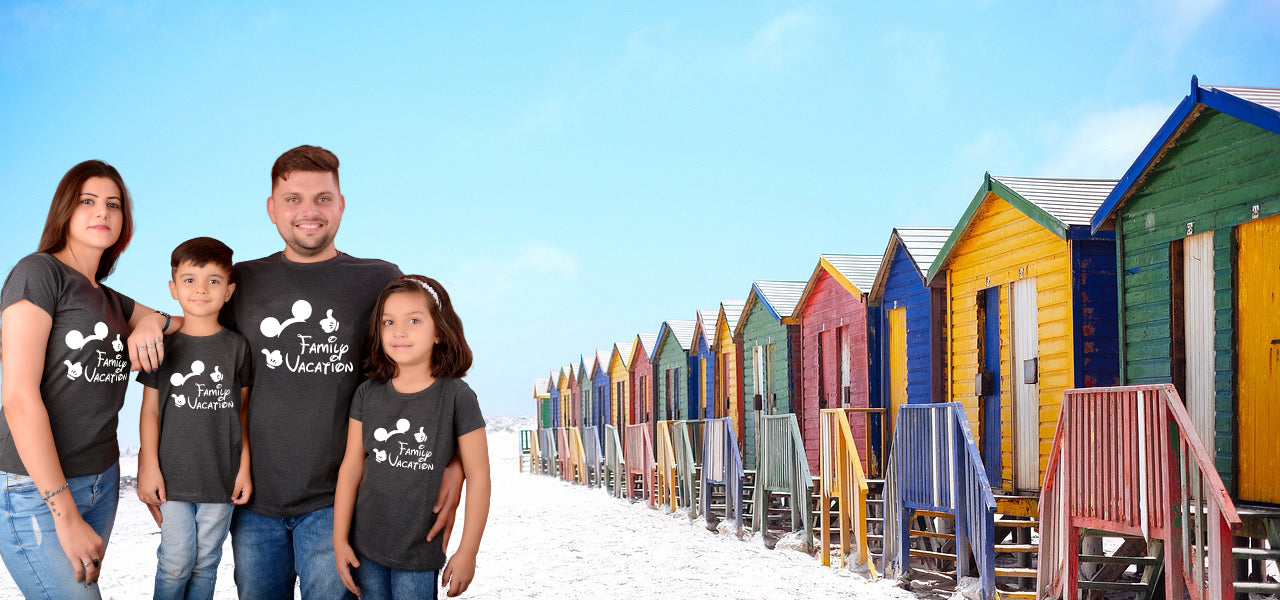 Creative Vacation T-Shirts Ideas & Gifts You Can Buy from Machinggo
There's nothing more exciting than planning a vacation with your family. Don't lose anyone this vacation design, custom T-shirts for the whole family members to wear, and these are the perfect present for the traveler. There are so many benefits to buying matching shirts for a family vacation, you will easily find your family member in the crowd with your custom T-shirts.
With a busy lifestyle of this modern age, we all would love to go on holiday with family and overlook all the hassles and puzzles of work. Who doesn't want to go on a holiday with family to chill out and enjoy quality time with your family and loved ones? Family holidays are the most memorable time of the year. These are the time that will stay with our kids forever. We all have countless childhood memories that revolve around family vacation and trips. Here we have listed creative vacation T-shirts ideas, and gifts you can buy from Machinggo.
Family Vacation T-Shirts
The family holidays are the most beloved time of the year. Everyone desires, their memories to last for a lifetime. Make your vacations even more memorable by rocking the T-shirts from Machinggo. Click that perfect family group photo by wearing the Machinggo matching T-shirt and make your precious memories last forever.
These exclusive T-shirts are designed to add that extra fun factor to your holidays. Capture those remarkable moments by wearing these shirts from Mahinggo. Create your memories to last forever. Celebrate the togetherness of your family with Machinggo. 
Let us help you to plan your vacation with swag. Machinggo has a plethora of T-shirt collections dedicated to family outings, family photo shoots, family holidays, siblings, and friends. We can deliver the most stylish collection of group family T-shirts to your doorsteps at affordable rates. Below are the top T-shirts ides that we have hand picked for you to wear on your family vacations.
DND I am on Holiday T-Shirts
Do not disturb I'm on holiday. These are the perfect T-shirt to wear on family holidays, and why should we get disturbed? Vacations are made for relaxation and spend time with family. This combo pack of T-shirts adds a little fun factor to your family outing day. This catchy line of this T-shirt shows the quirky side of your family.
Vacay Mode T-Shirts
Turn your vacay mode ON by wearing this amazing graphic tees. These are another great way for you and your family to match clothes for vacation. Let others know about your vacay mode. Enjoy your family vacations to the fullest by wearing this stylish Machinggo's vacay mode T-shirts.
Family Vacation T-Shirts
This is the most suitable set of family T-shirt that you can wear for a family vacation. These are the perfect collection of shirts for a family. The whole family or a group can wear this by ordering these tees in a batch. Express your love for your family members by wearing these amazing shirts with them.
The outfits listed here are just the tip of the iceberg, the largest collection of family T-shirts is waiting just for you to check out. Have a look at our whole collection of different shirts for different occasions. Surely, you will find many outfits that are suitable for you and your family.
The Machinggo has completely redefined the concept of clothing by an extensive variety of unique and quality clothes. Every shirt is designed with different designs and aesthetics. The creative designers at Machinggo have designed each of their T-shirts with a true touch of art, family sentiments, and style. Manufacturing of these types of T-shirts with, high-quality fabric 100% cotton, bio-wash fabric and is stitched to perfection. We have all the different clothing sizes for all the family members of your family. Be it a daughter, son, mother, or father Machinggo has covered all family members.
We hope that you have found this article informative. Now, why you are waiting? Grab this amazing family tees for your vacation. Let the world witness the strong bond of your family!