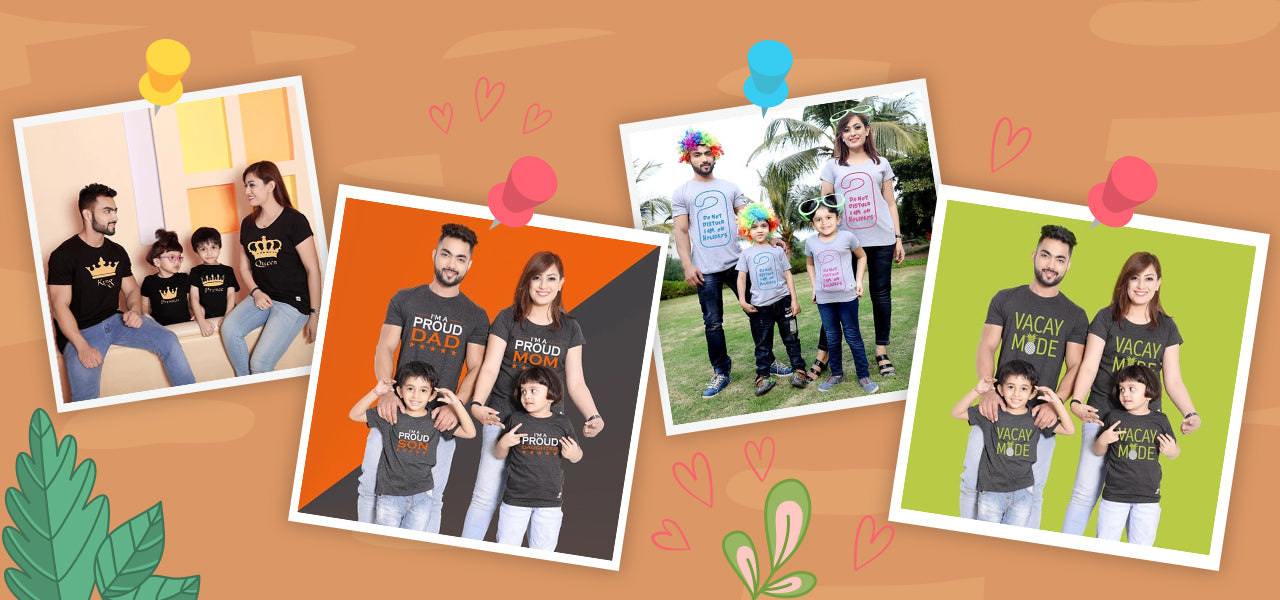 9 Best Matching Family T-Shirt Ideas to rock on Family Outings
Family outings are the best time of the week. It's the moment when we enjoy quality time with our family and kids, and leave all the problems of the work behind. The family outings enhance the love, bonding, and communication between your family members. The family outings organized on the weekends can freshen up your mind provides the much-needed boost of energy for the next week to come.
These days, the craze for family T-shirts is increasing rapidly. We decided to list out a few shirts that are designed especially for family outings. These T-shirts are the Machinggo exclusive, specially designed to make your memories unforgettable. So, let's start with family T-shirt ideas to rock on upcoming family outings.
Who isn't proud of their family? This T-shirt shows your love for your family. It lets you show your love to your family and also make a chance to get him proud feel. Grab this marvelous T-shirt combo for your upcoming family outings.
These T-shirts strongly represent the strong family sentiments of your family. Who does not love their family, these T-shirts reveal your feelings for your family. Grab the best T-shirt combo from Machinggo for your priceless love for family.
Let the world know the king & Queen like the attitude of your family by wearing this king and queen T-shirt during family outings. These are an excellent combo of T-shirts for this occasion. Present yourself as the king and queen of your family. Your adorable kids are your cute little prince and princess of the family.
These T-shirts express the happiness of your family members. These T-shirts have the same design, but they made are of different sizes of our family members. Take home this uniquely designed tees for the love of your family. 
Family since birth, together. Here is the most classic and simplistic vacation family T-shirt from the Machinggo store. It shows the strong family sentiments of your family. It represents the excellent togetherness of your family. Grab this high-quality tees at affordable rates from Machinggo.
Yes, there is one more great design for the best family T-shirts. All of your family members are the best. Take home these amazingly designed T-shirts for your family outings. Let your family members know how you value them in your life.
Everyone is the best in their own point of view, and these T-shirts well symbolize those feelings. This T-shirt unites those feelings with family emotions. This T-shirt determines that your family is the best. Rock this fabulous combo of the T-shirt with your family on your next outing.
This cool t-shirt combo reveals the fun side of your family. This matching t-shirt shows that your family is the best in every way. Grab these tees from Machinggo and show that I Am The Best.
This T-shirt combo shows a strong love for music from your family members. When you travel with your family, the best way to time pass is to listen to music, and if you love to listen to music, grab these music T-shirts. This T-shirt represents a great family bonding and a passion for music at the same time. 
These were some of the great T-shirt ideas to wear on your family outings. These T-shirts are fabric from the 100% cotton bio-wash fabric, and also these T-shirts are just not limited to the family outing. They are perfect for a family gathering and family photoshoots. 
Here, we have listed a few designs from our extensive collection of clothing. We have a whole new collection of a couple of T-shirts, sibling T-shirts, furthermore friends group T-shirts. Check out more unique and extensive designer matching clothing here.
All of these T-shirts are design by our in-house creative team of designers. We provide high-quality clothing at the most affordable rates. These T-shirts are the manufacture by utilizing modern technologies that help us maintain the quality of stitching and uniformity of fit for all different sizes.
Our T-shirts are specially designed to fit the body structure of modern Indian men and women. Several different measurements of the t-shirts are available for different body sizes. The fitting of the T-shirt will be flawless for all varying body sizes.
The photographs captured with this great T-shirt will remind you of a great time that you spent with your family on outings. Let the world know the importance of your family in your life. Grab these amazing tees from us and take the amazingness of your family outings to the next level!!